METODE EKSTRAKSI FITUR PADA PENGKLASIFIKASIAN DATA MICROARRAY BERBASIS INFORMASI PASANGAN GEN
Rully Soelaiman

Sheila Agustianty

Yudhi Purwananto

I.K. Eddy Purnama
Keywords:
algoritma genetika, data microarray, ekstraksi fitur, informasi pasangan gen, klasifikasi kanker
Abstract
Pengenalan teknologi DNA microarray membuat perolehan data microarray menjadi lebih mudah. Hal ini semakin memicu persoalan tentang bagaimana cara terbaik dalam mengekstraksi dan memilih fitur dari data yang berdimensi besar tersebut. Metode-metode terdahulu mengabaikan adanya hubungan antargen sehingga memungkinkan hilangnya informasi penting yang tersimpan dalam suatu gen pada saat ekstraksi fitur. Meskipun berbagai macam metode telah digunakan, pengembangan metode ekstraksi dan seleksi fitur dari data microarray yang lebih powerful dan efisien masih diperlukan untuk meningkatkan performa klasifikasi kanker. Dalam penelitian ini diimplementasikan sebuah metode dalam melakukan ekstraksi fitur dari data microarray yang memanfaatkan model klasifikasi berbasis informasi pasangan gen, yaitu pasangan gen yang memiliki perbedaan signifikan pada dua jenis sampel tissue. Hasil uji coba terhadap dua data microarray menunjukkan bahwa fitur hasil ekstraksi menggunakan metode ini dapat meningkatkan performa klasifikasi. Bahkan akurasi 100% dapat diperoleh pada uji coba terhadap data lymphoma.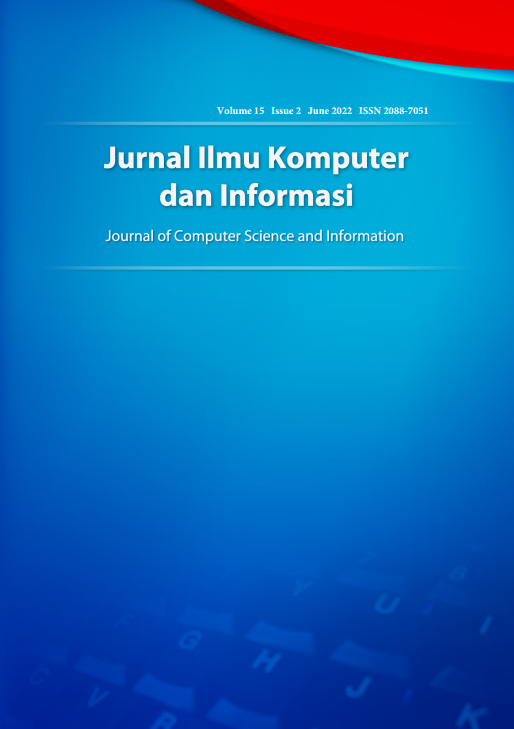 Authors who publish with this journal agree to the following terms:
Authors retain copyright and grant the journal right of first publication with the work simultaneously licensed under a Creative Commons Attribution License that allows others to share the work with an acknowledgement of the work's authorship and initial publication in this journal.
Authors are able to enter into separate, additional contractual arrangements for the non-exclusive distribution of the journal's published version of the work (e.g., post it to an institutional repository or publish it in a book), with an acknowledgement of its initial publication in this journal.
Authors are permitted and encouraged to post their work online (e.g., in institutional repositories or on their website) prior to and during the submission process, as it can lead to productive exchanges, as well as earlier and greater citation of published work (See The Effect of Open Access).