OPTIMASI FUZZY LEARNING VECTOR QUANTIZATION UNTUK SISTEM PENGENALAN AROMA CAMPURAN
Wisnu Jatmiko

Rochmatullah .

H. R. Sanabila
Keywords:
teori fuzzy, algoritma, LVQ, jaringan saraf tiruan
Abstract
Kehandalan dari sebuah sistem pengenalan aroma tidak hanya tergantung pada kemampuan perangkat sensor melainkan juga tergantung pada sistem pengenalan pola yang menggunakan jaringan syaraf tiruan. Struktur jaringan syaraf yang sederhana memiliki performa yang buruk untuk memisahkan berbagai campuran aroma. Kombinasi antara teori fuzzy dan jaringan syaraf tiruan digunakan karena teori fuzzy dapat menangani masalah data yang samar-samar sedangkan jaringan syaraf tiruan mempunyai kemampuan untuk pembelajaran yang bagus. Algoritma LVQ digunakan sebagai proses pembelajaran dalam sistem karena algoritma ini mempunyai kecepatan pembelajaran dan keakuratan yang cukup tinggi. Namun penggunaan LVQ dengan teori fuzzy masih menemui kendala utama yaitu pemilihan inisialisasi vektor referensi. Dalam paper ini kami mengusulkan metode baru dalam tahap inisialisasi vektor referensi, yaitu memilih vektor referensi awal yang terbaik dengan menggunakan fungsi fitness. Selanjutnya kami juga telah mengembangkan aplikasi berbasis GUI untuk menampilkan hasil dari klasifikasi aroma. Hasil eksperimen menunjukkan bahwa penggunaan fungsi fitness dalam pemilihan vektor referensi mampu meningkatkan tingkat pengenalan aroma dalam sistem.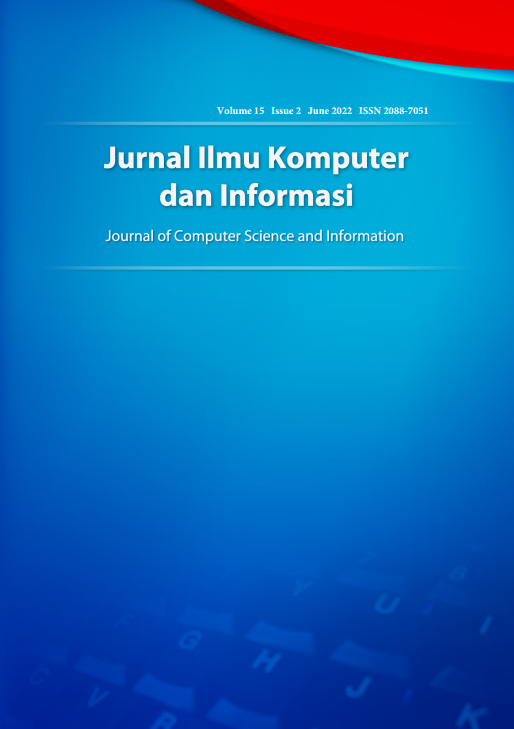 How to Cite
Jatmiko, W., ., R., & Sanabila, H. R. (2009). OPTIMASI FUZZY LEARNING VECTOR QUANTIZATION UNTUK SISTEM PENGENALAN AROMA CAMPURAN. Jurnal Ilmu Komputer Dan Informasi, 2(1), 53-61. https://doi.org/10.21609/jiki.v2i1.127
Authors who publish with this journal agree to the following terms:
Authors retain copyright and grant the journal right of first publication with the work simultaneously licensed under a Creative Commons Attribution License that allows others to share the work with an acknowledgement of the work's authorship and initial publication in this journal.
Authors are able to enter into separate, additional contractual arrangements for the non-exclusive distribution of the journal's published version of the work (e.g., post it to an institutional repository or publish it in a book), with an acknowledgement of its initial publication in this journal.
Authors are permitted and encouraged to post their work online (e.g., in institutional repositories or on their website) prior to and during the submission process, as it can lead to productive exchanges, as well as earlier and greater citation of published work (See The Effect of Open Access).