PERBANDINGAN KINERJA BASIS DATA RELASIONALDENGAN BASIS DATA BERORIENTASI-OBJEK STUDI KASUS: APLIKASI JPETSTORE
Petrus Mursanto

Muntasir Rahman
Keywords:
Basis Data Relasional, Basis Data Berorientasi Objek, Object Database, Application Performance, UML
Abstract
Basis Data Berorientasi Objek (BDBO) menggunakan model berorientasi objek untuk penyimpanan data. Selama ini penggunaan BDBO tidak populer disebabkan oleh beberapa standar yang berbeda dalam pemodelan dan perancangan skema data, serta kinerja yang dianggap kurang baik. Padahal dengan pengembangan aplikasi berorientasi objek seyogyanya penggunaan BDBO dapat menurunkan kerumitan dan meningkatkan kualitas kode aplikasi. Penelitian ini bertujuan mengkaji standar penerapan model objek data dan metode perancangan skema data pada BDBO melalui pengukuran kinerja dan kualitas kode dari aplikasi. Penelitian ini mengkaji penerapan model data ODMG 3.0 dan notasi UML pada aplikasi JPetStore dengan menggunakan transformasi Muller untuk perancangan skema data. Aplikasi JPetStore versi MySQL (BDR) dibandingkan kinerjanya dengan versi DB4O (BDBO). Hasil kajian adalah beberapa tambahan pada model ODMG 3.0 dan tambahan notasi UML untuk pemodelan data pada BDBO serta penyesuaian proses transformasi Muller. Kinerja aplikasi versi DB4O secara umum lebih cepat dibandingkan versi MySQL, kecuali dalam membaca data sederhana secara berurut. Kualitas kode aplikasi versi DB4O lebih baik dibandingkan versi MySQL.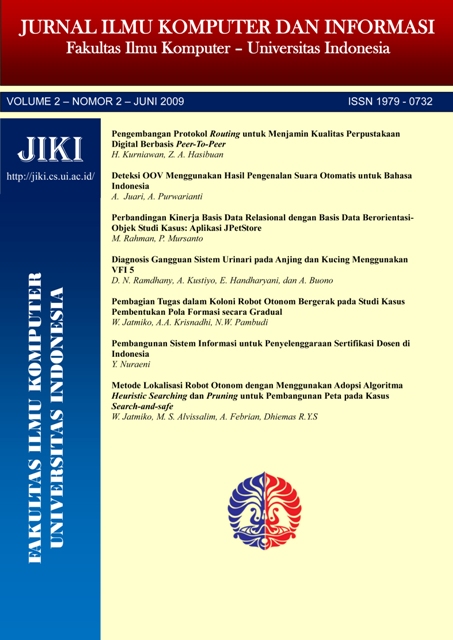 How to Cite
Mursanto, P., & Rahman, M. (2012). PERBANDINGAN KINERJA BASIS DATA RELASIONALDENGAN BASIS DATA BERORIENTASI-OBJEK STUDI KASUS: APLIKASI JPETSTORE. Jurnal Ilmu Komputer Dan Informasi, 2(2), 76-85. https://doi.org/10.21609/jiki.v2i2.130
Authors who publish with this journal agree to the following terms:
Authors retain copyright and grant the journal right of first publication with the work simultaneously licensed under a Creative Commons Attribution License that allows others to share the work with an acknowledgement of the work's authorship and initial publication in this journal.
Authors are able to enter into separate, additional contractual arrangements for the non-exclusive distribution of the journal's published version of the work (e.g., post it to an institutional repository or publish it in a book), with an acknowledgement of its initial publication in this journal.
Authors are permitted and encouraged to post their work online (e.g., in institutional repositories or on their website) prior to and during the submission process, as it can lead to productive exchanges, as well as earlier and greater citation of published work (See The Effect of Open Access).