BAIK– PROGRAMMING LANGUAGE BASED ON INDONESIAN LEXICAL PARSING FOR MULTITIER WEB DEVELOPMENT
Keywords:
database access, indonesian lexical parser, multitier web development, scripting language, akses database, bahasa penulisan, pemisahan kata-kata bahasa Indonesia, pengembangan web multitier
Abstract
Business software development with global team is increasing rapidly and the programming language as development tool takes the important role in the global web development. The real user friendly programming language should be written in local language for programmer who has native language is not in English. This paper presents our design of BAIK (Bahasa Anak Indonesia untuk Komputer)scripting language which syntax is modeled with Bahasa Indonesian for multitier web development. Researcher propose the implementation of Indonesian Parsing Engine and Binary Search Tree structure for memory allocation of variable and compose the language features that support basic Object Oriented Programming, Common Gateway Interface, HTML style manipulation and database connection. Our goal is to build real programming language from simple structure design for web development using Indonesian lexical words. Pengembangan bisnis perangkat lunak dalam tim berskala global meningkat dengan cepat dan bahasa pemrograman berperan penting dalam pengembangan web secara global. Bahasa pemrograman yang benar-benar ramah terhadap pengguna harus ditulis dalam bahasa lokal programmer yang bahasa ibunya bukan Bahasa Inggris. Paper ini menyajikan desain dari bahasa penulisan BAIK (Bahasa Anak Indonesia untuk Komputer), yang sintaksisnya dimodelkan dengan Bahasa Indonesia untuk pengembangan web multitier. Peneliti mengusulkan implementasi dari parsing engine Bahasa Indonesia dan struktur binary search tree untuk alokasi memori terhadap variabel, serta membuat fitur bahasa yang mendukung dasar pemrograman berbasis objek, common gateway interface, manipulasi gaya HTML, dan koneksi basis data. Tujuan penelitian ini adalah untuk menciptakan bahasa pemrograman yang sesungguhnya dan menggunakan desain struktur sederhana untuk pengembangan web dengan menggunakan kata-kata dari Bahasa Indonesia.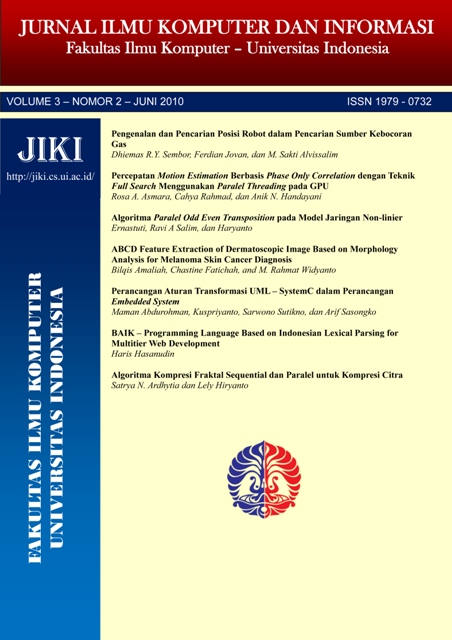 Authors who publish with this journal agree to the following terms:
Authors retain copyright and grant the journal right of first publication with the work simultaneously licensed under a Creative Commons Attribution License that allows others to share the work with an acknowledgement of the work's authorship and initial publication in this journal.
Authors are able to enter into separate, additional contractual arrangements for the non-exclusive distribution of the journal's published version of the work (e.g., post it to an institutional repository or publish it in a book), with an acknowledgement of its initial publication in this journal.
Authors are permitted and encouraged to post their work online (e.g., in institutional repositories or on their website) prior to and during the submission process, as it can lead to productive exchanges, as well as earlier and greater citation of published work (See The Effect of Open Access).