IMPLEMENTASI ALGORITMA BREADTH FIRST SEARCH DAN OBSTACLE DETECTION DALAM PENELUSURAN LABIRIN DINAMIS MENGGUNAKAN ROBOT LEGO
Adi Wibowo

Budianto .

Lasguido .

Fahry Fathurrahman
Keywords:
breadth first search, labirin dinamis, LEGO mindstroms NXT, line following, obstacle detection
Abstract
Dewasa ini perkembangan teknologi di dunia robot edukasi berkembang pesat. Robot-robot edukasi ini sering digunakan dalam riset penelitian karena kemudahan-kemudahan yang diberikannya dari segi perangkat keras. Salah satu contoh robot edukasi adalah robot LEGO Mindstorms NXT. Pada penelitian ini robot LEGO dibangun dalam bentuk robot line follower. Robot ini mampu menelusuri dan mencari jalan keluar dari labirin dinamis. Dalam menelusuri dan mencari jalan keluar, robot LEGO menggunakan algoritma Breadth First Search dan Manhattan Distance dalam memutuskan jalan mana yang harus diambil. Ketika menemui objek halangan, robot LEGO akan mengenali dan menghindari objek halangan tersebut dengan algoritma Obstacle Detection yang dimilikinya. Hasil implementasi membuktikan bahwa algoritma penelusuran labirin dinamis ini dapat diimplementasikan pada robot LEGO meskipun terdapat banyak keterbatasan dalam robot LEGO. Nowadays, the development of technology in educational robots is rapidly evolving. Educational robots are often used in research studies because they provide convenience in terms of hardware. One example is the educational robot LEGO Mindstorms NXT robot. In this research, LEGO robots built in the form of line follower robot. Robot is able to browse and find a way out of the dynamic labyrinth. In track and find a way out, LEGO robot uses an algorithm Breadth First Search and Manhattan Distance in deciding which path to take. When encountering an obstacle object, LEGO robot will recognize and avoid that obstacle objects with Obstacle Detection algorithm. The results prove that the implementation of a dynamic maze search algorithm can be implemented on a LEGO robot even though there are many limitations in LEGO robot.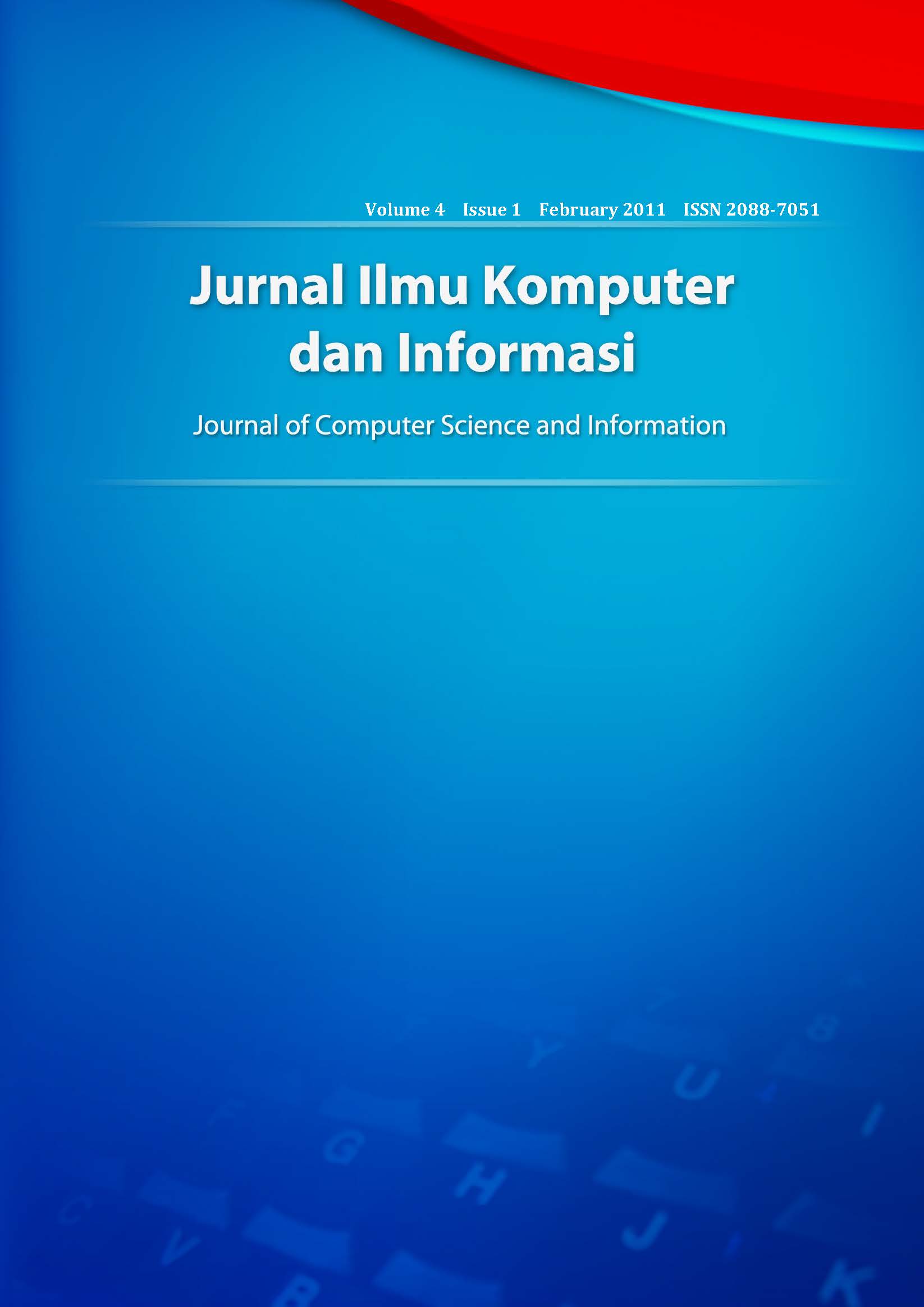 How to Cite
Wibowo, A., ., B., ., L., & Fathurrahman, F. (2012). IMPLEMENTASI ALGORITMA BREADTH FIRST SEARCH DAN OBSTACLE DETECTION DALAM PENELUSURAN LABIRIN DINAMIS MENGGUNAKAN ROBOT LEGO. Jurnal Ilmu Komputer Dan Informasi, 4(1), 15-22. https://doi.org/10.21609/jiki.v4i1.153
Authors who publish with this journal agree to the following terms:
Authors retain copyright and grant the journal right of first publication with the work simultaneously licensed under a Creative Commons Attribution License that allows others to share the work with an acknowledgement of the work's authorship and initial publication in this journal.
Authors are able to enter into separate, additional contractual arrangements for the non-exclusive distribution of the journal's published version of the work (e.g., post it to an institutional repository or publish it in a book), with an acknowledgement of its initial publication in this journal.
Authors are permitted and encouraged to post their work online (e.g., in institutional repositories or on their website) prior to and during the submission process, as it can lead to productive exchanges, as well as earlier and greater citation of published work (See The Effect of Open Access).