SIMPLE EXPERT VISION SYSTEM FOR RECOGNITION OF BEARING'S DEFECTS
Agustian K. Herdianta

Aulia M.T. Nasution
Keywords:
backpropagation, bearing, kecacatan visual, visual defect
Abstract
Defects on a bearing is usually determined by observing its vibration characteristics. This method unfortunately can not detect the visual defects on the inner and outer ring bearing surface. A pattern recognition is implemented in this paper to solve the problem. A backpropagation neural network architecture is used to recognize the visual defect pattern. This architecture is integrated in a digital image processing chain. Recognition rate of good bearing is obtained at 92.93 %, meanwhile for defected bearing is obtained at 75 % respectively. This rate shows integrated artificial neural network with digital image processing can be implemented to detect the presence of visual bearing defect. Cacat pada bearing biasanya ditentukan dengan mengamati karakteristik getaran. Metode ini sayangnya tidak dapat mendeteksi kecacatan visual pada permukaan dalam dan luar cincin bearing. Sebuah pengenalan pola diimplementasikan dalam paper ini untuk memecahkan masalah tersebut. Sebuah arsitektur jaringan saraf backpropagation digunakan untuk mengenali pola kecacatan visual. Arsitektur yang diusulkan ini terintegrasi dalam sebuah alir pengolahan citra digital. Tingkat pengenalan bearing yang baik adalah 92.93%, sedangkan untuk bantalan yang cacat adalah 75%. Angka ini menunjukkan integrasi jaringan syaraf tiruan dengan pengolahan citra digital dapat diterapkan untuk mendeteksi kecacatan visual pada bearing.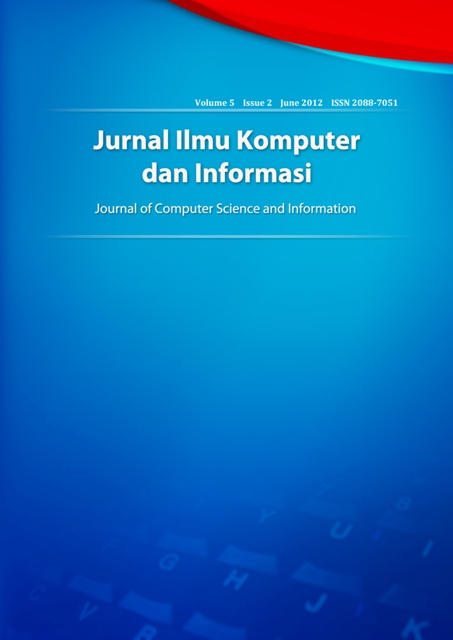 How to Cite
K. Herdianta, A., & Nasution, A. M. (2012). SIMPLE EXPERT VISION SYSTEM FOR RECOGNITION OF BEARING'S DEFECTS. Jurnal Ilmu Komputer Dan Informasi, 5(2), 57-62. https://doi.org/10.21609/jiki.v5i2.188
Authors who publish with this journal agree to the following terms:
Authors retain copyright and grant the journal right of first publication with the work simultaneously licensed under a Creative Commons Attribution License that allows others to share the work with an acknowledgement of the work's authorship and initial publication in this journal.
Authors are able to enter into separate, additional contractual arrangements for the non-exclusive distribution of the journal's published version of the work (e.g., post it to an institutional repository or publish it in a book), with an acknowledgement of its initial publication in this journal.
Authors are permitted and encouraged to post their work online (e.g., in institutional repositories or on their website) prior to and during the submission process, as it can lead to productive exchanges, as well as earlier and greater citation of published work (See The Effect of Open Access).