SENTENCE ORDERING USING CLUSTER CORRELATION AND PROBABILITY IN MULTI-DOCUMENTS SUMMARIZATION
I Gusti Agung Socrates Adi Guna

Institut Teknologi Sepuluh Nopember Surabaya

Suci Nur Fauziah

Institut Teknologi Sepuluh Nopember Surabaya

Wanvy Arifha Saputra

Institut Teknologi Sepuluh Nopember Surabaya
Keywords:
Document Summarization, Cluster Ordering, Cluster Correlation, Probability,
Abstract
Most of the document summary are arranged extractive by taking important sentences from the document. Extractive based summarization often not consider the connection sentence.  A good sentence ordering should aware about rhetorical relations such as cause-effect relation, topical relevancy and chronological sequence which exist between the sentences.  Based on this problem, we propose a new method for sentence ordering in multi document summarization using cluster correlation and probability for English documents. Sentences of multi-documents are grouped based on similarity into clusters. Sentence extracted from each cluster to be a summary that will be listed based on cluster correlation and probability. User evaluation showed that the summary result of proposed method easier to understanding than the previous method. The result of ROUGE method also shows increase on sentence arrangement compared to previous method.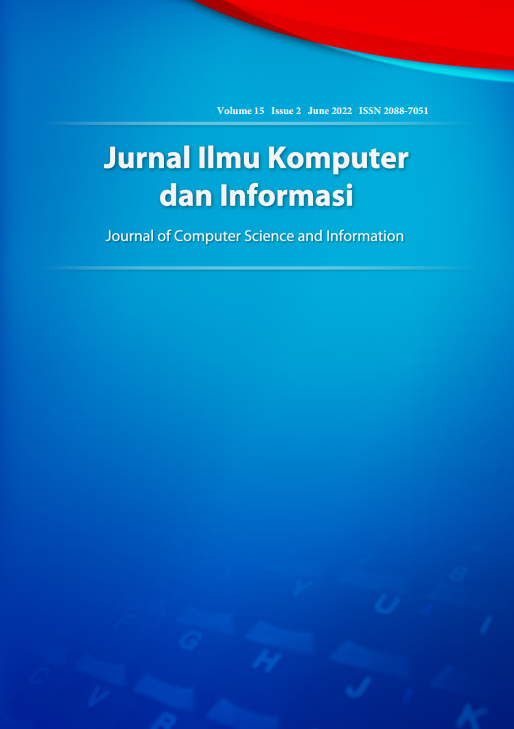 How to Cite
Adi Guna, I. G. A. S., Fauziah, S. N., & Saputra, W. A. (2017). SENTENCE ORDERING USING CLUSTER CORRELATION AND PROBABILITY IN MULTI-DOCUMENTS SUMMARIZATION. Jurnal Ilmu Komputer Dan Informasi, 10(2), 77-85. https://doi.org/10.21609/jiki.v10i2.418
Authors who publish with this journal agree to the following terms:
Authors retain copyright and grant the journal right of first publication with the work simultaneously licensed under a Creative Commons Attribution License that allows others to share the work with an acknowledgement of the work's authorship and initial publication in this journal.
Authors are able to enter into separate, additional contractual arrangements for the non-exclusive distribution of the journal's published version of the work (e.g., post it to an institutional repository or publish it in a book), with an acknowledgement of its initial publication in this journal.
Authors are permitted and encouraged to post their work online (e.g., in institutional repositories or on their website) prior to and during the submission process, as it can lead to productive exchanges, as well as earlier and greater citation of published work (See The Effect of Open Access).