MULTI-CLASS REGION MERGING FOR INTERACTIVE IMAGE SEGMENTATION USING HIERARCHICAL CLUSTERING ANALYSIS
Khairiyyah Nur Aisyah

Institut Teknologi Sepuluh Nopember

Syadza Anggraini

Institut Teknologi Sepuluh Nopember

Novi Nur Putriwijaya

Institut Teknologi Sepuluh Nopember

Agus Zainal Arifin

Institut Teknologi Sepuluh Nopember

Rarasmaya Indraswari

Institut Teknologi Sepuluh Nopember

Dini Adni Navastara

Institut Teknologi Sepuluh Nopember
Keywords:
Interactive Segmentation, Multi-class Region Merging, Hierarchical Clustering
Abstract
In interactive image segmentation, distance calculation between regions and sequence of region merging is being an important thing that needs to be considered to obtain accurate segmentation results. Region merging without regard to label in Hierarchical Clustering Analysis causes the possibility of two different labels merged into a cluster and resulting errors in segmentation. This study proposes a new multi-class region merging strategy for interactive image segmentation using the Hierarchical Clustering Analysis. Marking is given to regions that are considered as objects and background, which are then referred as classes. A different label for each class is given to prevent any classes with different label merged into a cluster. Based on experiment, the mean value of ME and RAE for the results of segmentation using the proposed method are 0.035 and 0.083, respectively. Experimental results show that giving the label on each class is effectively used in multi-class region merging.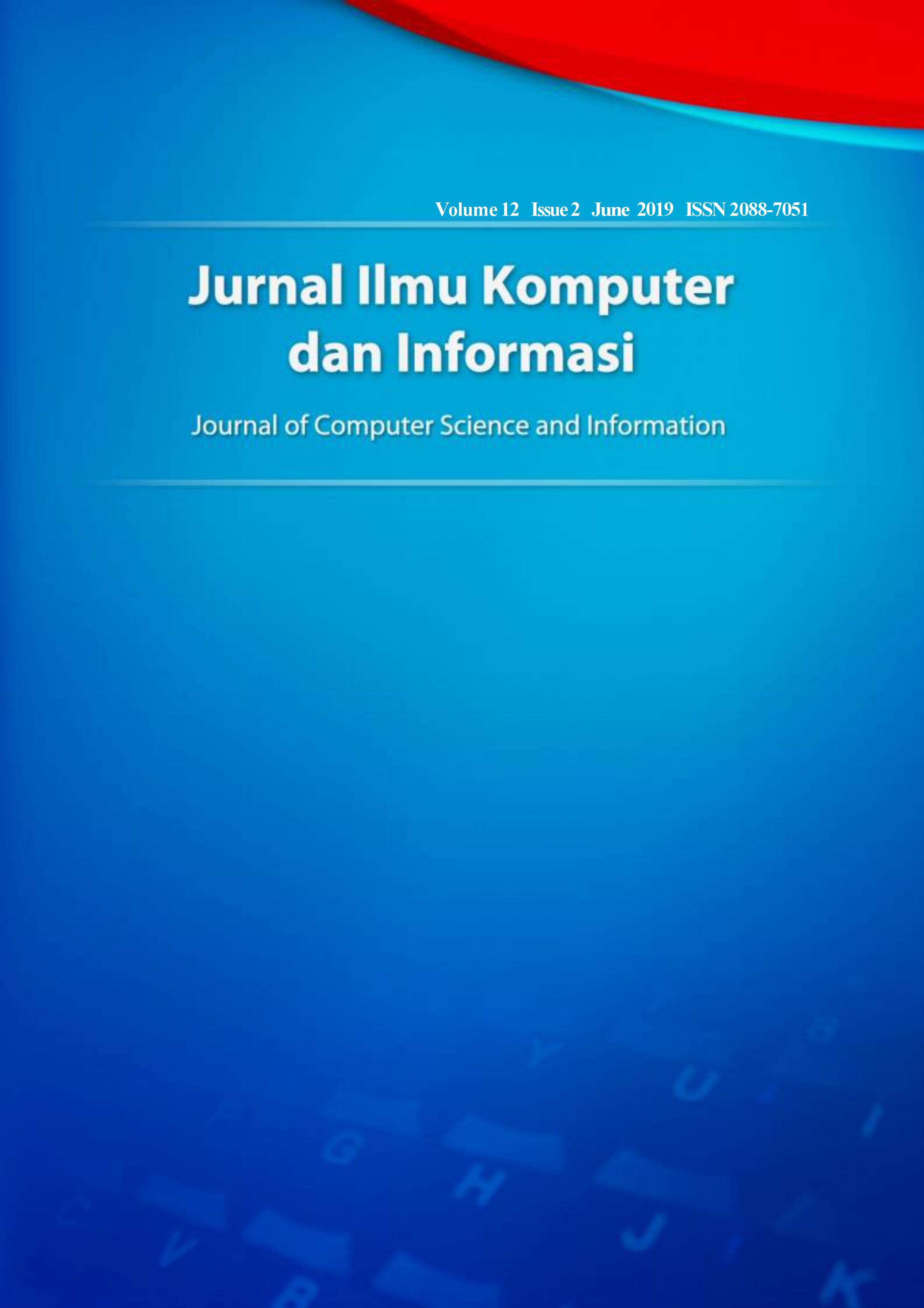 How to Cite
Aisyah, K. N., Anggraini, S., Putriwijaya, N. N., Arifin, A. Z., Indraswari, R., & Navastara, D. A. (2019). MULTI-CLASS REGION MERGING FOR INTERACTIVE IMAGE SEGMENTATION USING HIERARCHICAL CLUSTERING ANALYSIS. Jurnal Ilmu Komputer Dan Informasi, 12(2), 113-121. https://doi.org/10.21609/jiki.v12i2.757
Authors who publish with this journal agree to the following terms:
Authors retain copyright and grant the journal right of first publication with the work simultaneously licensed under a Creative Commons Attribution License that allows others to share the work with an acknowledgement of the work's authorship and initial publication in this journal.
Authors are able to enter into separate, additional contractual arrangements for the non-exclusive distribution of the journal's published version of the work (e.g., post it to an institutional repository or publish it in a book), with an acknowledgement of its initial publication in this journal.
Authors are permitted and encouraged to post their work online (e.g., in institutional repositories or on their website) prior to and during the submission process, as it can lead to productive exchanges, as well as earlier and greater citation of published work (See The Effect of Open Access).