PENGEMBANGAN PROTOKOL ROUTING UNTUK MENJAMIN KUALITAS PERPUSTAKAAN DIGITAL BERBASIS PEER-TO-PEER
Heri Kurniawan

Zainal A. Hasibuan
Keywords:
P2P, Perpustakaan Digital
Abstract
Pencarian dokumen pada jaringan Perpustakaan Digital (PD) berbasis peer-to-peer dengan arsitektur terdistribusi sangat mengandalkan koneksi antar-peer. Salah satu teknik pencarian yang umum digunakan adalah melalui pengiriman query secara broadcast kepada peer tetangga. Sayangnya cara ini kurang efisien karena berpotensi meningkatkan kepadatan lalu lintas jaringan. Selain permasalahan efisiensi, permasalahan lain yang dihadapi aplikasi PD adalah rendahnya kredibilitas PD dalam pertukaran data. Hal ini dapat dilihat dari rendahnya kualitas servis yang diberikan oleh sebuah PD. Pada penelitian ini penulis mengusulkan sebuah metode yang bernama Jaris. Jaris melakukan pencarian berdasarkan kemiripan antar-PD pada cache cluster dan kemiripan query pada cache query. Cara ini dilakukan untuk meningkatkan relevansi hasil pencarian dokumen dan menurunkan jumlah pesan yang dikirim. Jaris menggunakan mekanisme polling yang menggabungkan nilai QoS lokal dan global untuk meningkatkan kualitas transaksi. Pada uji coba penelitian, metode Jaris dibandingkan dengan metode random voting. Hasil percobaan menunjukkan kinerja Jaris lebih baik bila dibandingkan dengan random voting.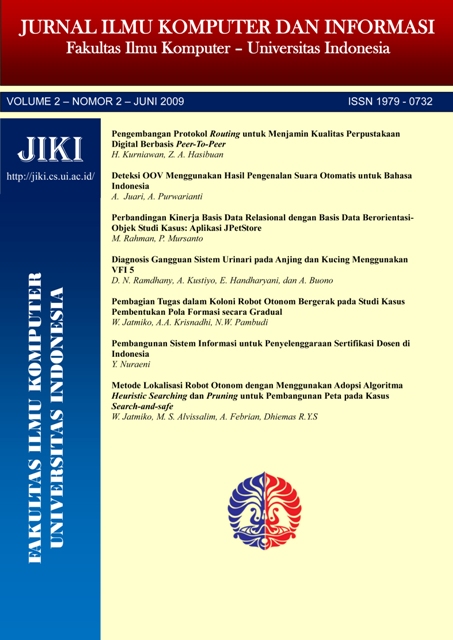 How to Cite
Kurniawan, H., & Hasibuan, Z. A. (2012). PENGEMBANGAN PROTOKOL ROUTING UNTUK MENJAMIN KUALITAS PERPUSTAKAAN DIGITAL BERBASIS PEER-TO-PEER. Jurnal Ilmu Komputer Dan Informasi, 2(2), 62-69. https://doi.org/10.21609/jiki.v2i2.128
Authors who publish with this journal agree to the following terms:
Authors retain copyright and grant the journal right of first publication with the work simultaneously licensed under a Creative Commons Attribution License that allows others to share the work with an acknowledgement of the work's authorship and initial publication in this journal.
Authors are able to enter into separate, additional contractual arrangements for the non-exclusive distribution of the journal's published version of the work (e.g., post it to an institutional repository or publish it in a book), with an acknowledgement of its initial publication in this journal.
Authors are permitted and encouraged to post their work online (e.g., in institutional repositories or on their website) prior to and during the submission process, as it can lead to productive exchanges, as well as earlier and greater citation of published work (See The Effect of Open Access).