DETEKSI DISTORSI BLOK PADA GAMBAR DIGITAL TERKOMPRESI
Irwan Prasetya Gunawan

Antony Halim
Keywords:
analisis multiresolusi, gambar digital terkompresi, transformasi wavelet haar, compresses digital image, haar wavelet transformation, multiresolution analysis
Abstract
Pada penelitian ini, dikemukakan sebuah metode baru berbasis analisis multiresolusi untuk mendeteksi distorsi blok pada gambar digital terkompresi. Gambar digital terkompresi cenderung memiliki artefak codingyang mungkin muncul ketika gambar dikodekan dengan tingkat kompresi yang tinggi. Penelitian ini berfokus pada distorsi blok yang dirasakan signifikan dalam gambar digital terkompresi berbasis blok seperti JPEG. Pada penelitian ini, transformasi Wavelet Haar digunakan untuk mendekomposisi sebuah gambar dan menganalisis karakteristik tepian dari gambar tersebut. Berdasarkan dekomposisi ini, peneliti menyusun sebuah algoritma untuk mendeteksi distorsi blok dengan menganalisis koefisien hasil transformasi wavelet. Hasil eksperimen algoritma terhadap database gambar LIVE menunjukkanhasil yang sangat memuaskan dengan tingkat kesalahan yang rendah. In this study, presented a new method based on multiresolution analysis to detect the distortion of the block in a compressed digital image. Compressed digital image tend to have coding artifacts that may arise when an image is encoded with a high compression rate. This study focuses on a block distortion that significantly perceived in the block-based compressed digital images such as JPEG. In this study, Wavelet Haar transformation is used to decompose an image and analyze the characteristics of the edge of the picture. Based on this decomposition, the researchers compiled an algorithm for detecting a block distortion by analyzing the coefficients of the wavelet transformation. The results of experimental algorithms for image database LIVE shows very satisfactory results with low error rates.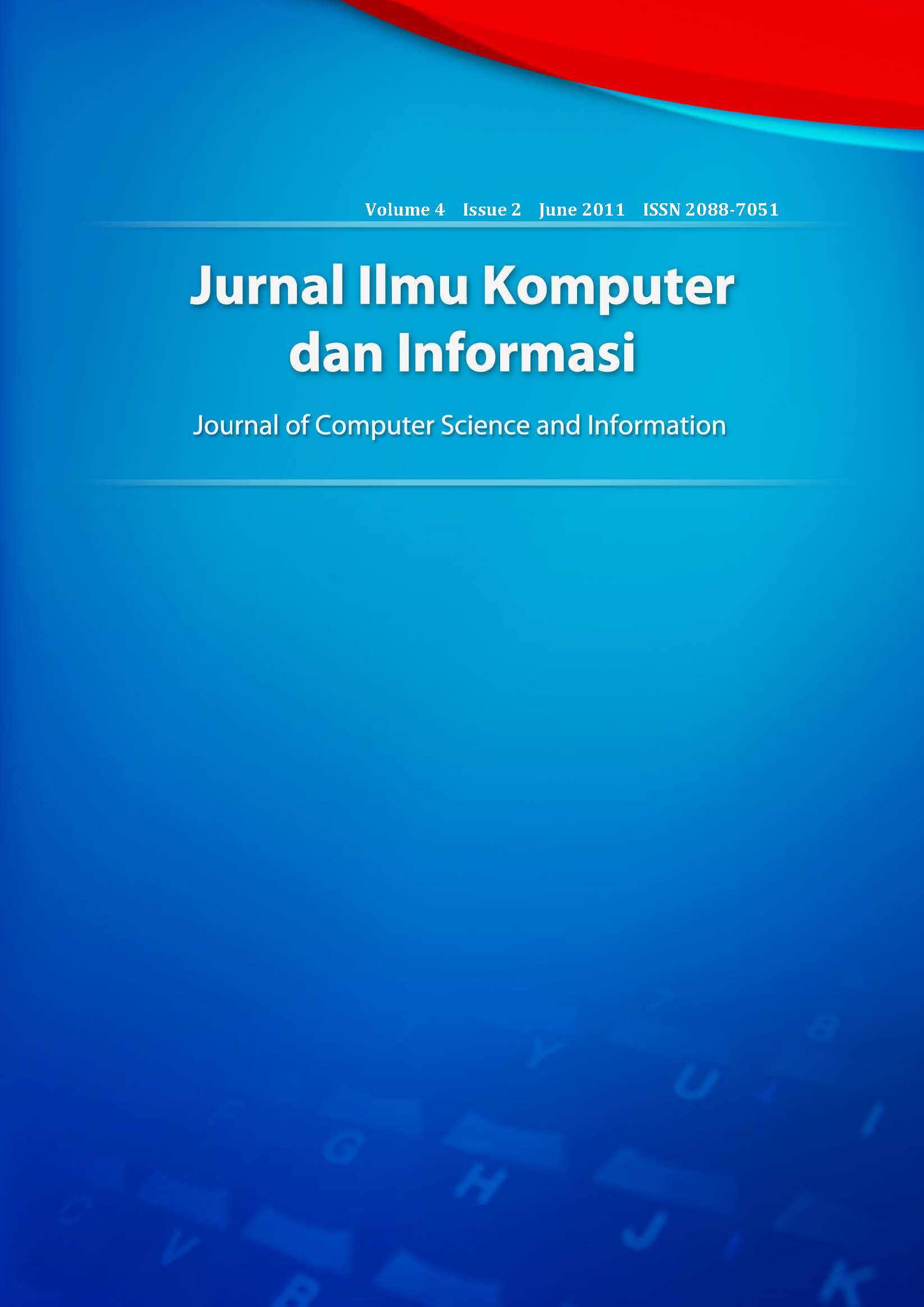 How to Cite
Gunawan, I. P., & Halim, A. (2012). DETEKSI DISTORSI BLOK PADA GAMBAR DIGITAL TERKOMPRESI. Jurnal Ilmu Komputer Dan Informasi, 4(2), 74-81. https://doi.org/10.21609/jiki.v4i2.166
Authors who publish with this journal agree to the following terms:
Authors retain copyright and grant the journal right of first publication with the work simultaneously licensed under a Creative Commons Attribution License that allows others to share the work with an acknowledgement of the work's authorship and initial publication in this journal.
Authors are able to enter into separate, additional contractual arrangements for the non-exclusive distribution of the journal's published version of the work (e.g., post it to an institutional repository or publish it in a book), with an acknowledgement of its initial publication in this journal.
Authors are permitted and encouraged to post their work online (e.g., in institutional repositories or on their website) prior to and during the submission process, as it can lead to productive exchanges, as well as earlier and greater citation of published work (See The Effect of Open Access).