OPERATING SYSTEM FOR WIRELESS SENSOR NETWORKS AND AN EXPERIMENT OF PORTING CONTIKIOS TO MSP430 MICROCONTROLLER
Thang Vu Chien

Hung Nguyen Chan

Thanh Nguyen Huu
Keywords:
operating system, porting contikiOS to MSP430, port ContikiOS untuk MSP430, wireless sensor networks
Abstract
Wireless Sensor Networks (WSNs) consist of a large number of sensor nodes, and are used for various applications such as building monitoring, environment control, wild-life habitat monitoring, forest fire detection, industry automation, military, security, and health-care. Each sensor node needs an operating system (OS) that can control the hardware, provide hardware abstraction to application software, and fill in the gap between applications and the underlying hardware. In this paper, researchers present OS for WSNs and an experiment of porting contikiOS to MSP430 microcontroller which is very popular in many hardware platforms for WSNs. Researchers begin by presenting the major issues for the design of OS for WSNs. Then, researchers examine some popular operating systems for WSNs including TinyOS, ContikiOS, and LiteOS. Finally, researchers present an experiment of porting ContikiOS to MSP430 microcontroller. Wireless Sensor Networks (WSNs) terdiri dari sejumlah besar sensor nodes, dan digunakan untuk berbagai aplikasi seperti pemantauan gedung, pengendalian lingkungan, pemantauan kehidupan habitat liar, deteksi kebakaran hutan, otomatisasi industri, militer, keamanan, dan kesehatan. Setiap sensor nodememerlukan sistem operasi (SO) yang dapat mengontrol hardware, menyediakan abstraksi hardware untuk aplikasi perangkat lunak, dan mengisi kesenjangan antara aplikasi dan hardware. Dalam penelitian ini, peneliti menyajikan SO untuk WSNs dan percobaan dari port contikiOS untuk MSP430 mikrokontroler yang sangat populer di platformhardware untuk WSNs. Peneliti memulai dengan menghadirkan isu utama yaitu desain SO untuk WSNs. Lalu, penelitimemeriksa beberapa sistem operasi populer untuk WSNs, termasuk TinyOS, ContikiOS, dan LiteOS. Akhirnya penelitimenyajikan sebuah percobaan dari port ContikiOS untuk MSP430 mikrokontroler.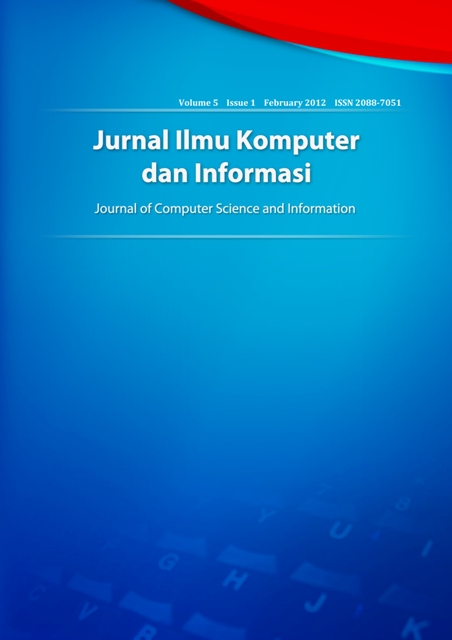 How to Cite
Chien, T. V., Chan, H. N., & Huu, T. N. (2012). OPERATING SYSTEM FOR WIRELESS SENSOR NETWORKS AND AN EXPERIMENT OF PORTING CONTIKIOS TO MSP430 MICROCONTROLLER. Jurnal Ilmu Komputer Dan Informasi, 5(1), 50-56. https://doi.org/10.21609/jiki.v5i1.186
Authors who publish with this journal agree to the following terms:
Authors retain copyright and grant the journal right of first publication with the work simultaneously licensed under a Creative Commons Attribution License that allows others to share the work with an acknowledgement of the work's authorship and initial publication in this journal.
Authors are able to enter into separate, additional contractual arrangements for the non-exclusive distribution of the journal's published version of the work (e.g., post it to an institutional repository or publish it in a book), with an acknowledgement of its initial publication in this journal.
Authors are permitted and encouraged to post their work online (e.g., in institutional repositories or on their website) prior to and during the submission process, as it can lead to productive exchanges, as well as earlier and greater citation of published work (See The Effect of Open Access).